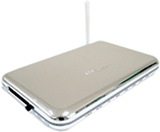 The MB6800 3G/4G Cellular router leverages 3G/4G cellular with Wi-Fi technology and offers up to 4 Ethernet ports for local computers, printers or other network devices.

Easy connectivity to high-speed 3G/4G cellular networks (no additional requirements for software, drivers or interfaces) and fast implementation make 3G Mobile Router an ideal mobile wireless Internet access solution for SOHO and SME.

MB6800 is ROHS & WEEE compliant.

There are three WAN connection available in MB6800, PCMCIA card, USB modem and lined WAN connection. Triple connection offers best redundancy and makes your network reliable at any time.
When a wired line network interruption is detected, MB6800 will automatically establish a high-speed broadband wireless link and all data traffic gets routed over the cellular data network. During this period, auto-reconnect is enabled to maintain a consistent, stable, wireless broadband link. When the primary data path is restored, the MB6800 will disconnect wireless network automatically and returns to wired link.

MB6800 can support most USB 3G modems available in market. USB modems are becoming main trend of cellular network client devices in nowadays. MB6800 can auto recognize latest USB modems and no additional driver or software is needed.

MB6800 supports wireless group management by Top Global Remote Central Management (RCM) software. RCM provides enterprise class management and administration to configure, monitor, and manage Top Global 3G router products. RCM can help our customer to reduce network devices maintenance costs. Network administrator can monitor all MB6800 just by sitting behind a computer, no boring daily maintenance trips are needed, and efficiency can be enhanced dramatically.

There is a GPS location service build in RCM. Administrator can get position information of all MB6800 at real time by just log into RCM system.